Charles T. James, was born on September 15, 1805 in West Greenwich, Rhode Island. He learned the carpenter's trade as a youth and he later became an expert machinist and mechanic. For some years he was superintendent of the Slater cotton mills in Providence, Rhode Island and is credited with starting 23 steam-powered cotton mills in New England.

He served as a U.S. Senator during the term 1851-1857 and was the Chairman of the Senate Patents Committee in the Thirty-fourth Congress. He refused to stand for reelection, chiefly because of the decline in his assets during his senatorial term; his lawyer, Caleb Cushing, later asserted that the management of the De Laine Mills (which James erected in 1848) had literally fleeced him of his property.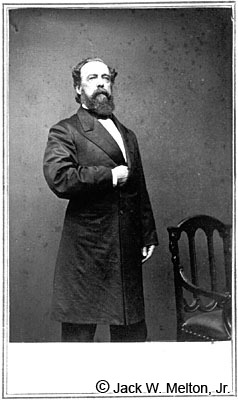 James was also a Major-General in the Rhode Island State Militia. He became interested in the production of firearms and developed a rifled cannon and several artillery projectiles which proved successful, especially during the reduction of Fort Pulaski, Georgia. His first projectile was patented on February 26, 1856, patent #14,315. On October 16, 1862, at Sag Harbor, New York, Charles James was conducting a demonstration of his projectiles to a group of foreign military officers. A workman tried to remove a cap from one of the shells with pliers and the projectile exploded. The workman died instantly and James died from his wounds the next day, October 17, 1862.
Although the cannons were not manufactured as James guns, but rather cannons were rifled on the James system. All serviceable guns, either of bronze or iron, could have been rifled on the James system, for the use of James projectiles. The rifling was a gaining right-hand twist with shallow grooves and equal distance between the lands and grooves. The lands and grooves are flat and varied from seven in the 14-pounder (3.80-inch caliber) to eighteen for the 42-pounder gun (7-inch caliber). After the bombardment of Fort Pulaski, Georgia, the James rifles projectiles were reported to be extremely accurate. This remains a controversy today which projectile, the James or Parrott, played a more important part in the reduction of Fort Pulaski.
The smaller field guns were made of a softer metal, bronze, unlike the larger caliber guns made of iron. The rifling grooves in the bronze rifles were worn down quickly making the service life of the gun very short. The James projectile soon fell out of favor due to their constant stripping of the lead sabot and were replaced by the Hotchkiss projectile.
To see more James projectiles click here.