The following obituary of Robert P. Parrott was published for the 9th Annual Reunion of the Association of the Graduates of the United States Military Academy, West Point, June 13, 1878.
Robert Parker Parrott's Birth Record from his Family.



Parrott died Dec. 24, 1877, at Cold Spring, NY, located on the Hudson River, at age 73.
Robert Parker Parrott was born Oct. 4, 1804, at Lee, N.H.; entered the U.S. Military Academy of West Point July 1, 1820, and was graduated with honors July 1, 1824, receiving at that time the appointments of Brevet Second Lieutenant and Second Lieutenant, being assigned to the Third Regiment of Artillery.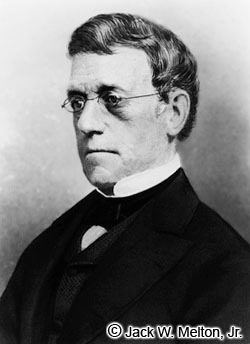 Ordered to duty at the Military Academy, he served there from 1824 to 1829, first as Assistant Professor of Natural and Experimental Philosophy, then as Assistant Professor of Mathematics, and finally as Principal Assistant Professor of Natural and Experimental Philosophy.
Removed to Fort Constitution, N.H., in September 1829, he served in garrison there for two years. Promoted to First Lieutenant, Third Artillery, Aug. 27, 1831, and transferred to Fort Independence, Mass., the same year, he was on duty there until 1834, in close companionship with the late lamented Albert E. Church, then Second Lieutenant, afterwards for many years the honored Professor at West Point; with whom he there formed the life-enduring friendship, which was only ended by the death of both.
In 1834 Lieutenant Parrott was assigned to ordnance duty; afterwards to staff duty in military operations in the "Creek Nation." Receiving the appointment of Captain of Ordnance Jan. 13, 1836, he was ordered to Washington as Assistant to the Chief of the Bureau of Ordnance, in which capacity he served until Oct. 13, 1836, when he resigned from military service. [He resigned to become superintendent of the West Point Iron and Cannon Foundry with which he was associated until 1867.]
Here his military record ends, and the archives of the Army are henceforth silent as to his history; for, although at the outbreak of the war with Mexico he promptly put himself at the disposition of the Government, to which he held that his services of right belonged in case of need, they were not required, and that short and glorious contest was fought and won without his participation.
And when, after many years, the terrible civil war of the "Rebellion" burst upon his afflicted country, and so many of West Point's children, who, like him, were found engaged in the pursuits of civil life, leaving their peaceful avocations, hurried to resume their places in the warlike ranks of their great country's defenders, the time had passed for him to render such service, which he was constrained to leave to younger ones. But there was service which he could and did render to his beloved country.
Long and careful study of the subject of ordnance, to which he had given especial attention when in the army, had enabled his natural genius to invent, and prolonged and costly experiments to perfect, a system of rifled cannon and projectiles, so simple, effective and inexpensive, that from the first commencement of hostilities it was adopted by the U. S. Government for the use of its armies and navies.
At the first battle of Bull Run the guns called by his name hurled their unerring missiles at his country's foes, and at every succeeding engagement, on land or water, during the continuance of the stupendous war, the "Parrott" cannon thundered and the "Parrott" shells flew, screaming on their destructive course, doing their steady duty in honorable representation of their inventor, who thus regretted that he was unable to be in the field to do it in person:
"If I were a younger man [he said] I should return to the army, and do what I could to aid my country there; but at my age, and in my position, I am denied the opportunity of helping the Government in that way. But in this way I can be of use, and I intend that these guns shall cost the United States no more than is absolutely necessary."
This remark was called forth by the remonstrance made to him that the prices he fixed for his cannon etc. were unnecessarily low; that he would receive no credit from any one for his moderation; that the Government must purchase all that he could manufacture on his own terms (as was indeed the case), and that here was the opportunity, which could never occur again, to acquire enormous wealth.
Smiling in the quiet way habitual to him, he replied that he had no desire to possess extraordinary riches, and that he would rather not acquire them in that way; and then, with earnest seriousness, he spoke as has been quoted. As he had spoken so he did.
He furnished his ordnance and projectiles to the Government on terms most advantageous to it, and although the enormous increase in the cost of materials and labor, which occurred as the war continued, compelled him to increase his prices, those charged to the United States were certainly at no time equal to what he would have exacted from any other purchaser.
When the Internal Revenue law went into force, levying a tax of three, and afterwards five, percent on the value of manufactures, he was entitled to have it remitted on his products which he was furnishing to the Government on standing contracts entered into before the enacting of these laws.
He declined, however, to ask for such remittance, preferring to pay from month to month large sums, deducted from his legitimate profits, in aid of the necessities of his country.
So when the war, so long protracted, came happily to a sudden close in the surrender of the armies of Lee and Johnston, he had not long before concluded with the Ordnance Department a contract for a large number of guns and projectiles.
Knowing that the Government would now no longer require them, and having no wish to profit by furnishing what would be of not use to it, he made known to the Department that, although he was of course ready to fill the contract if it were desired, if it were considered to the interest to the Government to annul it, he was content that it should be done. The contract was accordingly canceled.
These instances of his upright conduct are not cited in the spirit of exalted praised, but as illustrative of his honorable character which, with the basis on which it was formed, this memorial is designed to commemorate.
Self-reliant and self-contained, looking to none for advice or assistance rarely offering advice unasked, whilst freely giving his assistance to all in need of it. Preferring to listen rather than to talk, although more often more instructed in the subject discussed than those who spoke the most, he doubtless passed unmarked by those who did not know him well; and he was content that it should be so.
Modest and unassuming, he did not seek nor care for public consideration. His aim was to do his duty for that duty's sake. This was his character, and the foundation of his character was his military education at West Point.
There were immovably rooted in his being those principles of unalterable devotion to duty and high honor which are characteristic of the complete modern soldier--still "jealous in honor" in its highest sense, though happily no longer "sudden and quick in quarrel." And these were the principles which actuated his conduct through his life, as well in the everyday affairs of money seeking business as when he sat a judge upon the bench, and, in the other higher walks of his life.
Although the history of his life in the army is brief and uneventful, and closed after 12 years of performance of routine duties, he yet lived and died a soldier. As he with care preserved the commissions of his several grades in the army, so in his heart he treasured the proud consciousness of his unanswering soldier's rectitude, and by it ever ruled his conduct to do honor to the profession he so greatly esteemed.
Denied the opportunity to do it honor by the performance of illustrious actions in its exercise, he was content to dignify it by a long course of devotion to duty. To simply and truly do his duty, in whatever situation he might be placed, was what he strove to do throughout his life. Such, I must repeat, was his character and, from first to last, through prosperity and adversity, through trials and temptations, thus he held his steadfast way in the path of duty.
Thus he lived and thus he died. And when the entire community in which his duty had called him to live and labor during the long years of his civil life, high and low, rich and poor, followed his body to its last resting place, and reverently gathered around his open grave, one and all there bore him heartfelt record that he had done his duty well.....
Perhaps no words may seem to you more fitly to express your commendation than those penned by the General, Chief of the Bureau of Ordnance: "The staunch friend, the Christian gentleman, the soul of honor, not one of all the virtues that keep green the memory of the dead can be denied him; but above all it can be written on his tomb--he was a good man."