Sir Joseph Whitworth was probably the best mechanical engineer Britain had during his lifetime. He pioneered machine shop practices with setting the standards for machining, tool and die work, and designs. Most of Whitworth's achievements represented international firsts. He had forty-eight patents from 1834-1878, for machinery, artillery projectiles, cannons, tools, armor, and other improvements. One of his better know inventions was the Whitworth cannon and rifle with their corresponding projectiles.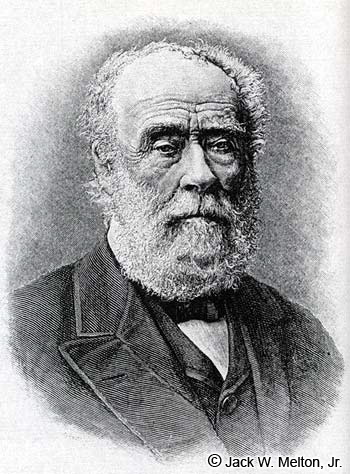 There were seven breech-loading and five muzzle-loading 12-pounder (2.75-inch caliber) Whitworth rifled guns in the United States during the American Civil War. During a test trial in Southport Sands, England, in 1863, a 12-pounder breech-loading Whitworth rifle hit a target from 4.7 miles away.
On April 23rd, 1857, The Times reported that the Government School of Musketry, Hythe, Kent, 'has established beyond all doubt the great and decided superiority of Mr. Whitworth's invention. The Enfield rifle, which was considered so much better than any other, has been completely beaten. In accuracy of fire, in penetration, and in range, its rival (the Whitworth) excels it to a degree which hardly leaves room for comparison.'
Whitworth cannon were used at Gettysburg, Pennsylvania, Vicksburg, Mississippi, Fredericksburg, Virginia, Fort Fisher, North Carolina, Charleston, South Carolina, as well as other American Civil War battlefields.
The above is an engraving from a photograph made by Elliott and Fry, London in 1882.